For 40 years we have been manufacturing precision instruments sold all over the world
Accuracy in design, efficiency in implementation, reliability in management; these are the prerogatives that every major work must have and that the Structural Monitoring Systems must guarantee.
We offer tools and solutions for geotechnical and structural monitoring.
Our products and services are characterized by recognized high quality and proven reliability over time.
Our experience combines tradition with new market needs.
We offer innovative services and products, oriented to customization that meets the needs of our customers.
Operating principles, technical characteristics, construction materials and mounting accessories, are carefully chosen taking into account the specific characteristics of the work, the environmental conditions and the management problems of the same.
We guarantee continuity, reliability and precision for a complete response to the technical needs of designers and construction site problems.
Appropriate choices in the principles of operation and implementation of sensors and any other instrument make our structural monitoring systems long-lasting even in complex situations and environments, such as the monitoring and protection of civil works, infrastructures, monuments and the territory.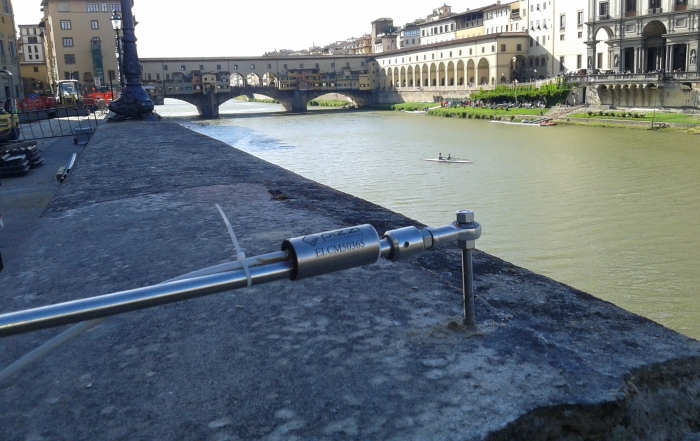 We deal with the production and supply of precision instruments for geotechnical and structural monitoring.
Thanks to our know-how, we support customers and designers from the preliminary stages of the project, providing careful and professional advice to understand the real needs and develop the best solutions.
We develop and produce ad hoc tools to meet various needs; we integrate our instrumentation into complete and complex monitoring systems; we provide fundamental support in the phases of installation, configuration and maintenance of the system.
Our goal is to provide tools and monitoring systems appropriate to the real needs of our customers; not only standard tools and services, but specific solutions, studied with customers, to guarantee concrete and reliable answers.
Pizzi Pizzi was established in Florence in 1983. With an agreement with Officine Galileo Spa,
a worldwide pioneer in scientific instrumentation,
Franco Pizzi acquired designs and patents for the manufacture and commerce of instruments for the geotechnical and structural health control of dams and large structures..
From the start, our aim has always been to support designers and construction companies in all project phases , developing monitoring solutions for specific needs.
Engineering experience and technological innovation are combined in a company which, over time, has been able to integrate technical knowledge with the latest technology to offer innovative, reliable and personalised solutions.
We collaborate with professionals and companies in every phase of the project.
An appropriate monitoring system can only be developed as a result of thorough knowledge of the structure or phenomenon to be monitored and the influence of other parameters such as the production phases, the intervention of the various operators involved, the instrumentation with its principles and installation specifications.
Pizzi Terra srl is an engineering service company specialised in 4D monitoring, geotechnical, structural and topographic measurement and mobile mapping.
Our services include: design, development and installation of systems, monitoring and measurement solutions, execution of geotechnical, vibrational and topographical measurements; execution of on-site tests, provision of qualified customer service, data assistance and data analysis, static and dynamic data collection with laser scanner technology, mobile mapping services for railways, viaducts, motorways etc.
Offriamo una eccellente ed affidabile sistema per il monitoraggio 4D attraverso la piattaforma SwissMon ®: soluzione webbased solida, affidabile e scalabile
scalable and able to integrate all types of sensors and applicable to large and small monitoring projects
GeoSIG is the world leader in the design and manufacture of a wide range of high precision instruments to monitor seismic and vibrational events.
Attraverso una vasta gamma di sensori sismici, digitalizzatori, registratori, sistemi di acquisizione dati e software GeoSIG Ltd offre soluzioni altamente personalizzate, capaci di soddisfare i continui mutamenti imposti dal mercato internazionale e le specifiche esigenze del cliente.
GeoSIG Ltd instrumentation is applicable to many sectors:
Earthquake Early Warning and Rapid Response EEWRR
-Monitoring and recording of seismic events,
-Monitoring of seismic events causing the shutdown of industrial plants.
-'SHRM'- Structural Health Monitoring and Response of
dams, bridges, tunnels, skyscrapers, railways, pipelines and structures of historical significance.
Structural analysis and response to environmental vibration testing, monitoring of induced vibrations, explosions, construction, excavation, drilling, vibration control, compaction control, environment and traffic monitoring, research and scientific applications.
The American company DGSI Slope Indicator is one of the world's leading manufacturers of geotechnical and structural instrumentation.
Since 2018 Pizzi Instruments has started a fruitful collaboration with this Company.
Pizzi Instruments, having ceased the production of its inclinometer probes, has concluded an agreement with DGSI Slope Indicator to be able to continue to offer this product to its customers, choosing the best Company, present on the world market today.
With this collaboration Pizzi Instruments also proposes to integrate the range of missing instruments in its production with DGSI products, certainly of great quality, reliability and robustness.
Pizzi Instruments also takes care of the maintenance of Slope Indicator equipment, either directly or as an intermediary to the parent company.